Types of Tile
Built for a lifetime of enjoyment, tile has been gracing floors and walls, both interior and exterior, for many centuries. At Tastinger's Floor Covering Carpet One Floor & Home you will always encounter an impressive and ever-growing inventory of fine tile products for all of your residential and commercial needs, with a wide selection of colors, materials, and styles to ponder.
Always onsite to help guide you towards your perfect tile, our resident tile experts can help you find the perfect product for your style, space…and budget. But first- here are some of the basics on the types of tile you'll find in our showroom.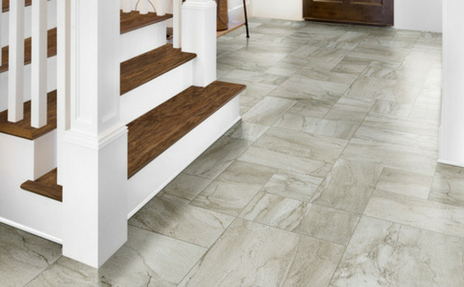 Backsplash and Wall Tile
Tile makes wonderful flooring- no doubt about that- but it certainly isn't limited to staying under your feet. Tile is also a gorgeous and smart alternative to wallpaper and paint. Your new tile backsplash can serve as a functional barrier in your kitchen and bathroom, protecting your walls against water, grease, soap suds, and other common offenders.
Ceramic tile will stand the test of time and resists moisture, so it's always a great choice for your kitchen and bathroom. Made out of organic clay, it is inherently durable and won't scratch or dent, so it's a nice match for households with pets and kids.
Porcelain Tile
A denser variety of ceramic tile, the difference in porcelain tile that it is fired at higher temperatures. Ceramic is considered to be waterproof, so it is very popular in laundry rooms and out by the pool, as well as lining your patio.
Stone Tile
Stone tile is made just as nature intended. If you prefer using natural materials for flooring and walls, you will love such options as organic marble, granite, or slate. Stone will readily last for generations, and blends in seamlessly with the natural landscape – making it a perennial favorite for a garden-side seating area or other outdoor gathering spot.