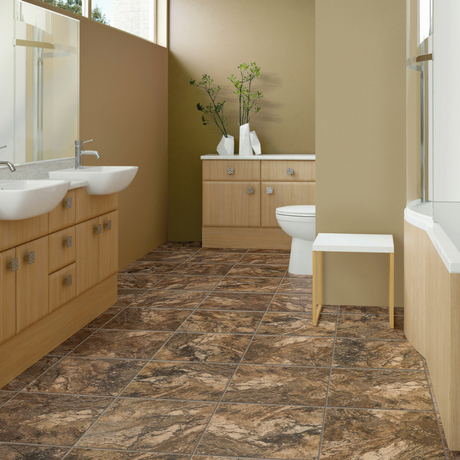 If you want flooring that is truly unique and long lasting for your home, an excellent option is natural stone floors. These stones come right from the quarry, and are cut into tile size and finished as you want them. Natural stone is available in a multitude of colors, and every stone tile is a little different, guaranteeing that your floor can never be replicated exactly. From the simpler, unrefined look of slate to the opulent look of marble, natural stone beauty is adaptable enough to blend in with any style decor. Here are several types of natural stone that are frequently used for flooring:
Limestone flooring - Limestone, made from sedimentary rock, has a slightly softer feel than other types of stone flooring, but is just as long-lasting and hard-wearing. It comes in soft grays, creams, and browns, and can be laid in various patterns, including a modern looking chevron technique, a mixed Versailles pattern, or a classic square arrangement. Travertine limestone tile has been formed in hot springs, which creates small holes in the stone. It's available in reds, silver, pale ivory and brown, and is perfect for residential and commercial use.
Marble flooring - Marble, made from metamorphic rock, is an easily maintained, millions of years old natural stone material that comes in a wide range of colors and patterns. There is nothing more elegant than marble natural stone floors, but it can scratch very easily, and can't be cleaned with any acidic chemicals.
Granite flooring - Choose granite, made from igneous rock, for commercial applications and high traffic floors. It's made of 60% feldspar and 30% quartz, and won't scratch as easily as marble, is highly resistant to most acids, and won't etch or get dull spots on its surface.
Slate flooring - This naturally slip-resistant stone comes in gray, green, or red, has a variety of surface finishes, and is more affordable than other stone floors.
All of these natural stone floors will add a feeling of luxury to your home, and will last for a long while if properly maintained.